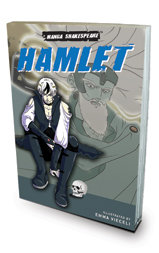 Download Resources
ORDER NOW

WALLPAPER
1152 x 864
1024 x 768
800 x 600
HAMLET
Hamlet
is set in a dramatic futuristic world. The year is 2017. Global climate change has devastated the Earth. This is now a cyberworld in constant dread of war. The state of Denmark has grown prosperous and defended itself successfully against neighbouring states. But could it be that its greatest threat comes not from without, but from within the state itself?
It is in this cyberworld that we find the young Hamlet. His grief over his father's recent death turns to something far darker when the ghost of his father appears to him. Hamlet is very soon to discover that something is rotten in the state of Denmark...
Emma Vieceli is a key member of the UK manga collective Sweatdrop Studios. She is a keen promoter of the UK manga and anime scene and enjoys offering workshops and seminars on creating manga as well as being a freelance illustrator and manga ka. Her professional experience ranges from 'How to draw manga' books through corporate character designs to artwork for tabletop RPG card games. She is producing her own manga series, Dragon Heir, and has appeared in a number of group anthologies. Her articles and artwork have appeared in several magazines and she was one of the winners of the first Tokyopop Rising Stars of Manga UK and Ireland competition.
DETAILS
Series title:
Manga Shakespeare
Book title:
Hamlet
Original author:
William Shakespeare
Adapted by:
Richard Appignanesi
Illustrated by:
Emma Vieceli

UK Publication date:
March 2007
Format:
148 x 210mm
Extent:
208
Colour:
Black & white,
8-page colour section
Binding:
Paperback
Price:
£7.99
Category:
Manga / Graphic Novels
/ Shakespeare / Children

ISBN:
13-digit: 978-0-9552856-1-5
10-digit: 0-9552856-1-5